Solar AC/DC Hybrid Air Conditioner
12.000 BTU solar hybrid AC/DC heat Pump
MODEL: CT-ACDC12(B)1 (International Model)
18,000 BTU solar hybrid AC/DC MODEL: CT-ACDC18
Connect up to three solar panels (Max 900W)
Runs on solar power & AC power
12,000 or 18,000 BTU Cooling and Heating
Plug-and-play solar connection
No batteries required
Product Model
12.000 BTU Solar AC/DC Hybrid Air Conditioner
Model: CT ACDC12(b)1 (International Model)
Connect up to 3 x 300 watt solar panels (Max 900w)
Runs on solar power & AC power
12,000 BTU (3.5kw or 1 Ton) Cooling and Heating
Plug-and-play solar connection
No Batteries required
18.000 BTU Solar AC/DC Hybrid Air Conditioner
Model: CT-ACDC18
Connect up to 5 x 250 watt solar panels (Max 1250w)
Runs on solar power & AC power
18,000 BTU (5.0Kw or 1.5 Ton) Cooling
No Batteries Required.
Benefits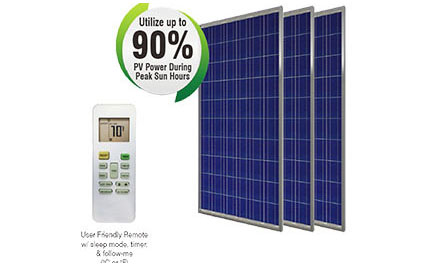 Available for the home
Keep the inside cool all day for the next to nothing in energy costs. Preventing daytime heat build-up also cuts evening cooling cost.

Available for the office
keep the work area comfortable during business hours for pennies per day.
Cool or heat up to 750 Sq. Ft (69m).

Solar hybrid air conditioners for solar distributors
Compatible with 50Hz and 60Hz power, use it anywhere in the world.

Simple to install air conditioning
This unit install exactly like a normal mini-split solar air conditioner.
Standard MC4 solar connectors and cabling can be used to connect the solar panels directly to the A/C unit.
Pricing and Costing
In general, a solar hybrid air con can cost between $1800 – $2000 excluding installation fees. It might sounds expensive at the start but think about the life time cost savings on your utility bills and how your actions can save the environment long term.